An organic regenerative revolution in the making
On our network of family-run farms, chickens, turkeys, and egg-laying hens are raised to the highest organic standards. It's how we've been doing things since the beginning, and how we intend to keep doing it for generations to come. We're optimistic about the positive impact we can continue to have on our communities and the planet moving forward. We hope you will taste the difference that organic makes!
Learn more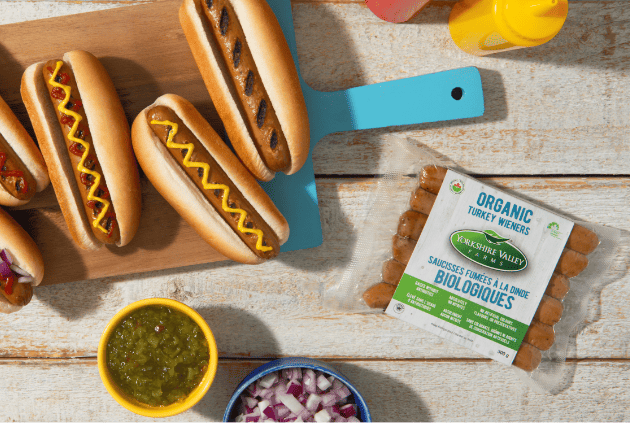 Organic Turkey Wieners
It's hot dog season! Like all of our organic turkey products, our wieners are made from organic turkey that is raised without antibiotics on a vegetarian non-GMO diet. With no fillers, no artificial colours or flavours, and absolutely no nitrites, you can expect no complaints next time you fire up the BBQ!
Turkey Wieners >
2023 Eco-Scholar Award
Meet the 2023 Eco-Scholar recipients and learn more about their inspiring projects.
Eco-Scholar Awards >
Our online shop is now open!
Get your favourite Yorkshire Valley Farms frozen products delivered direct to your door.
Shop now >
Our organic commitment
Confidence in making healthy food choices starts with knowing where and how the story begins. Our organic journey starts on the farm. So, who better to show you the ropes than the Ahrens family – one of our founding farmers who started their organic practices over 30 years ago.
We're on a mission to leave the world better than we found it.
To us, that means dishing up superior tasting food for our loved ones while impacting the planet positively for generations to come.